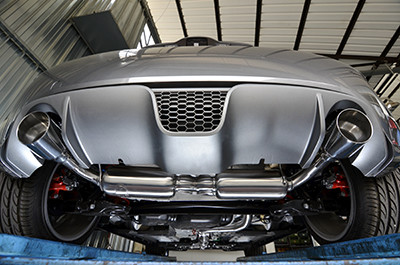 Your vehicle's exhaust system is one of its most important components when it comes to repairs and even modification. It's important to trust only an experienced muffler shop in Atlantic, IA if you require repair, customization or troubleshooting for your auto's exhaust.
As the local specialists for all things exhaust, Second Street Towing and Repair is committed to giving you the services you need to make the most of this critical system. We're able to provide:
Repairs: Dealing with a loud muffler? Unseen trouble with your exhaust system? Strange emissions? All of these problems and more indicate a need for automotive exhaust repair. We're here to trace the route of the problem and deliver solutions that keep your vehicle in perfect working order.
Custom mufflers: Looking to enlarge your muffler for a more powerful sound? You've come to the right place! We're able to provide custom mufflers for any vehicle and specialize in muffler enhancements of all types.
Restoration: If your vintage make or model encounters muffler trouble, turn to our experts for comprehensive help. We're pleased to provide restorative services for your muffler, to help maintain the traditional façade of your classic car.
Stock Replacement Replacement
Stainless Steel or Aluminized Tubing
Flowmaster Exhaust Technology
Magnaflow Performance
Diesel Performance Kits
Hot Rods to Farm Trucks
Custom Bent Pipework (including 3″ pipe)
Our Brands
Flow Pro
Diamond Eye
Stainless Tips
When it comes to auto services, towing, or your exhaust systems in Atlantic, Marne, Lorah, Lewis, or Wiota, IA, make the choice for quality: choose Second Street Towing and Repair. Contact us today for a free initial diagnosis of your muffler's issues—we can be reached at 712-243-2203.